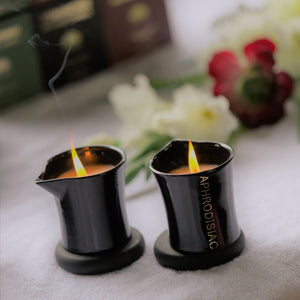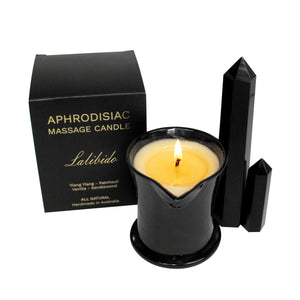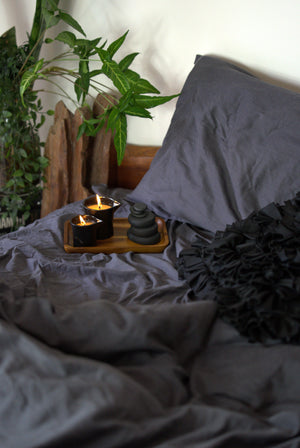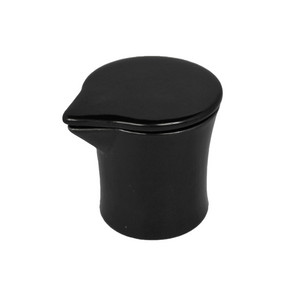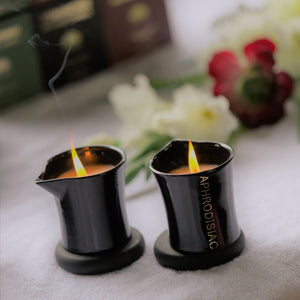 Massage Oil Candle, Massage Candle, Body Oil Candle | Aphrodisiac Blend | Enjoy 5-8 Full Body Massage Treatments | All Natural
Sensual and romantic, ignite your passion with this sweet, woody and exotic aromatherapy massage candle. Top notes are ylang ylang and patchouli, middle notes are vanilla bean and bergamot, base note is ambered sandalwood.
Our propriety blend of local Currumbin beeswax and nourishing botanical oils will slowly melt into a pool of warm sensual oils packed with omegas, vitamins and minerals to hydrate, nourish and repair the skin. No chemical additives, non-greasy, long-lasting body-safe oil.
Our point of difference is our carefully curated aromatherapy essential oil and natural fragrance oil blends, creating an aromatic high your senses will thank you for.
Our hand blended massage candles are formulated to a low melt point of 40°C (similar to a warm bath) to ensure a comfortable sensual massage without causing discomfort to the skin. A natural moisturiser for hands, legs, feet and other dry areas of the body, leaves skin feeling soft and satin smooth.
Hand poured

 in Australia.

120ml, enjoy 5-8 full body massage treatments
60ml, enjoy 3-4 full body massage treatments 

Ceramic jar with a pour spout

Ceramic lid to keep the dust out for multiple use.

Ultra-moisturizing formula

See below or base of candle for instructions 
USAGE
Open the lid to deliver a smooth aphrodisiac fragrance that will awaken the libido for a romantic massage. Light the candle and the fragrance will be more intense and seductive, when liquid, it transforms into a soft and moisturising massage oil. After 15 to 20 minutes, extinguish the candle and pour onto the body of your partner, massaging sensually. The candle will solidify to use another day.
Touch someone you care for with these light and silky-smooth blends of Aromatic Massage Oils. Each of the three scented massage oils reveals an enticing fragrance and imparts a powerful effect on the mind, body and spirit. 
BENEFITS OF MASSAGE THERAPY
Reduces stress and increasing relaxation.
Reduces pain and muscle soreness and tension.
Improves circulation, energy and alertness.
Improves immune function.
Enhances your mood.
Improves sleep.

INGREDIENTS
Organic Shea Butter
Organic Soybean Oil
Organic Almond Oil
Pure Beeswax
100% Natural Fragrance Oil
Essential Oil

AROMATHERAPY BENEFITS
Aromatherapy can greatly influence our emotions, moods, and behaviors, and by creating fragrances that bring positive experiences to our everyday activities and contribute to our self care routines, we want to help boost people's happiness and improve people's lives through aromatherapy and massage.

Sandalwood is an ancient oil – revered in ayurvedic medicine for its meditative and relaxing properties. However, sandalwood also has powerful aphrodisiac properties – one of the reasons this sultry base note oil is used in in very high-class perfumes. It has a balsamic, woody aroma so it adds a depth to any blend and tends to appeal to both men and women. The sexiest essential oil of all.

Ylang Ylang means flower of flowers in the pacific islands where it grows. Created from the highly scented flowers of a tall, tropical tree it's orchid like aroma is one of the most intoxicating of all the essential oils. Long used by the people of the islands as an aphrodisiac, it is part of the folklore of marriage ceremonies of the region to encourage romance and overcome any sexual difficulties. Ylang ylang has a sweet, floral-balsamic aroma which is quite sweet and rich and adds an exotic twist to the products it is used in.

Vanilla has been long regarded as an aphrodisiac. Whether Vanilla's power of seduction is due to some sexy, stimulating ingredients or simply because of it's sensual, calming scent. Historically, there has long been a connection between the sweet, alluring aroma of Vanilla and sexual arousal. It's intoxicating, warm, sensual smell has captivated everyone over the ages.

Patchouli A rich, warming, spicy, aroma, to create calm and peace. The rich, musky fragrance has sensuous, aphrodisiac properties. The earthy tones have a balancing effect on emotions.

Ecomailers used - 100% home compostable, plant-based packaging.