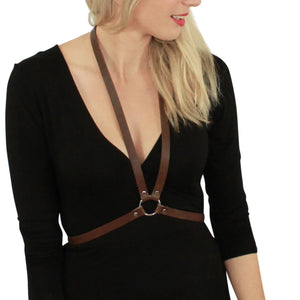 Leather Harness | RM Williams | Silver
A stunning harness designed to be worn over clothing, lingerie or just on your bare skin. Leather harnesses are good for everyday outfits or events and perfectly compliment the female body.
This leather piece is an easy way to add a sexy touch to your simple dress or top, add a little extra to your personal style and charisma.
These designer harnesses are handcrafted with with premium RM Williams full grain leather which will burnish naturally over time, developing character. Adjustable through buckles around the neck and waist for a precise fit.
15mm wide leather adjustable for size 8-14.

Please contact for custom order.