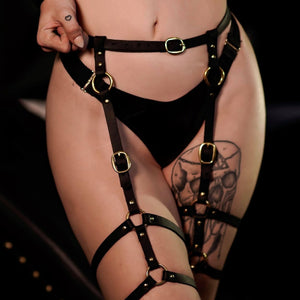 Leather Leg Harness | Gold
 A stunning harness designed to be worn over clothing, lingerie or just on your bare skin. Leather harnesses are good for everyday outfits or special occasions and perfectly compliment the female body.
These designer harnesses are handcrafted in Australia with full grain Italian leather. Adjustable straps around your waist or hips, and around your legs, they can be perfectly adjusted or custom made according to your size.
Our mission is to offer only high quality products, we are continuously specialising in designing unique products using only premium materials

All pieces are MADE TO ORDER, standard sizes XS - 4XL. Please contact us if you have any questions or requests about sizing. Please leave your waist, top and mid thigh measurements in the order notes.