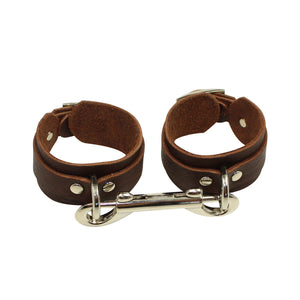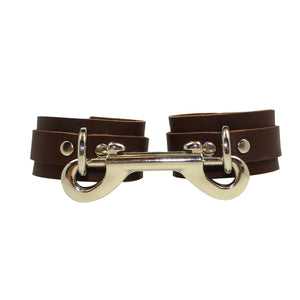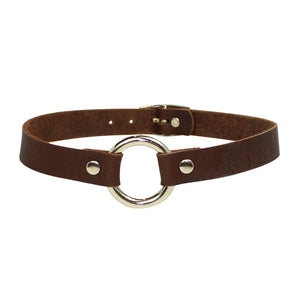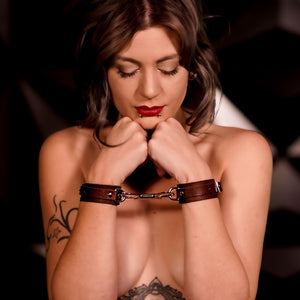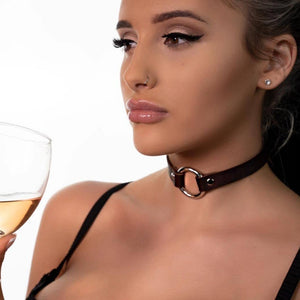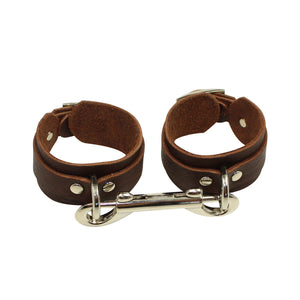 Ankle Cuffs | Wrist Cuffs | Collar | Lead | RM Williams Leather | Silver
The collar and cuffs luxury set is a beautiful mix of jewellery and bondage wear, worn for aesthetic enjoyment or sensual play. Wear your designer collar and wrist cuffs during the day, to be linked with your lover at night.

The slimline chokers can be worn as a fashionable accessory during the day and when the evening falls they can be used for play. Crafted with with premium RM Williams full grain leather. Every single piece is handmade in Australia and set apart by its use of quality materials and polished brass hardware.

Aside from doing its sexy due diligence as a classic BDSM leash, the leather chain lead is quality in its hardware, materials and strength. The lead can be clipped through the collar's connection point courtesy of a swivelling clasp. The leather handle is larger than most, and definitely has some potential as a restraint itself. Try looping it over a bedpost, for example!

Handcrafted in Australia using the finest quality RM Williams full grain leather which will burnish naturally over time, developing character.

Adjustable standard wrist size 15 - 22cm (6 - 8.66inch)
30mm wide outside leather, 15mm inside leather
Adjustable standard ankle size 20- 28cm (7.87 - 11 inch)
40mm wide outside leather, 15mm inside leather.
Includes 2 x silver snap-hooks
Collar 15mm wide leather with adjustable length of 30-40cm (11,8 - 15,7)
Chain Lead is 90cm Long including the leather handle.
Custom orders welcome.

Our Kinky Bondage Kit comes beautifully packaged in a black drawstring satin bag making it the perfect gift for that special lover in your life who deserves to be wowed and spoiled.

All orders are gift wrapped and discreetly packaged.